Palacios Gonzalez, Nahielly (MA and PhD alumna)
Mexico is a m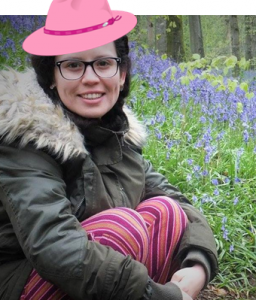 ulticultural and multilingual country. Its main language is Spanish but there are over sixty indigenous languages that are also recognised as national languages (e.g. Náhuatl, Maya, Zapoteca and Mixteca). The variety of cultures and languages in my country motivated me to develop a personal interest in exploring the connection between culture and language. In the same way, I became interested in discovering more about my own and other cultures.
With the purpose of satisfying my curiosity about these topics, from 2003 to 2007, I studied a Bachelor degree in Tourism. Then, from 2006 to 2010, I studied a Bachelor degree in 'Educación Secundaria con Especialidad en Inglés' (Secondary Education with Major in English, my translation).
What I can say about my studies is that they always emphasised the usefulness and significance of 'intercultural communication' (IC) in this globalised and internationalised world.
My first bachelor's degree and the studies I was undertaking at "Escuela Normal Superior de Jalisco" where I was preparing to become a secondary school English teacher, allowed me to work for the Ministry of Education. Hence, in November 2007, I began my professional career as an EFL Teacher.
In September 2011, I participated in a one-year exchange programme between foreign language teachers (FLTs) from Mexico and the United Kingdom. "Programa de asistentes de idioma México-Reino Unido" (Foreign language Assistants Programme between Mexico and the UK, my translation). The exchange involved Mexican foreign language teachers of English and alumni from "Escuelas Normales Superiores" and "Universidades Autónomas" going to the United Kingdom in order to work as foreign language assistants (FLAs) of Spanish. Similarly, British FLTs of Spanish and graduates went to Mexico to work as FLAs of English.
I believe this professional sojourn enhanced my personal and professional journey in a positive way. It transformed my ideas about the connection between culture and language and it allowed me to explore other cultures and backgrounds. Moreover, it transformed my teaching practice allowing me to provide personal insights and perceptions of this experience into my lessons. Also, it motivated me to deepen my understandings about how to teach interculturally and to study an MA TESOL degree at the University of Manchester.
During my UK-Based MA TESOL (Teaching English to Speakers of other languages) degree, I became interested in the issue of language teaching/learning and its relation to the 'intercultural dimension'. I started to wonder how Mexican foreign language teachers (FLTs) have experienced the 'intercultural turn' in language teaching education and how they have changed their ideas, beliefs, as well as their teaching practices after this turn. Therefore, I undertook a small-scale research which title was "Exploring the influences of professional sojourns on teachers' practices, assumptions and beliefs about intercultural communication".
I am currently doing a Phd which focuses on the 'Narratives of Mexican English Foreign Language Teachers sojourning in the UK'.