EVENTS
Alumni and Associates Meetings with Current Students
2021
Dates are still be arranged as yet but talks from alumni/current students (Dalal, Duygu, Fida, Huran, Ivy, Made) and visitors (Natasha Tsantila) plus others yet to confirm (e.g. Nicos Sifakis).
Fri 26th Feb, 12.00/12.15 GMT … Ivy Taslima (new time)
Fri 19th Feb, 12.00/12.15 GMT … Natasha Tsantila (ELF researcher) (new time)
Fri 12th Feb, 12.00/12.15 GMT … Fida Sahar (new time)
Fri 5th Feb, 12.00/12.15 GMT … Duygu Candarli (new time for Sem 2 talks)
Fri 29th Jan, 10.00/10.15 GMT … Huran Mirillo
Fri 22nd Jan, 10.00/10.15 GMT … Dalal AlAbbasi
Fri 15th Jan  … Made (Magdalena) De Stefani
---
2020
Fri 18th Dec … Fitri
Fri 11th Dec … Eva Polymenakou
Fri 4th Dec  … Ola Dolganova
Thu 26th Nov … Magda Rostron 
Fri 20th Nov … Susan Dawson
Fri 13th Nov … Tinghe Jin
Fri 6th Nov … 'Khwan' Sutraphorn Tantiniranat
---
LANTERN SUMMER EVENT 16/06/2019
If you missed the event you can watch some of the chats and videos presented on the day in the following links: Juup's chat; Susan's and Gary's chat, Bona's chat, Felix's Chat,  Nahielly's chat, Volha's video, Eljee's video and  Khwan's video.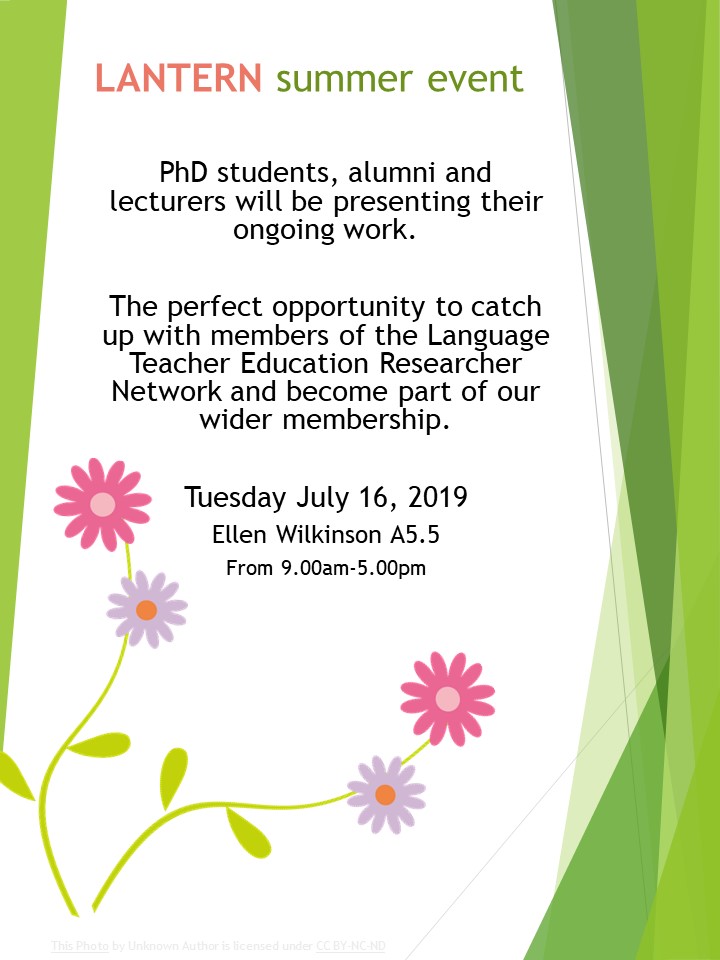 Lunchtime Talks 21-23
10/05/19 Reflections on fieldwork with UK Chinese families by Choen Yin Chan 24/05/19 Preparing for the viva: Skills and Experience by  Dr. Zhuomin Huang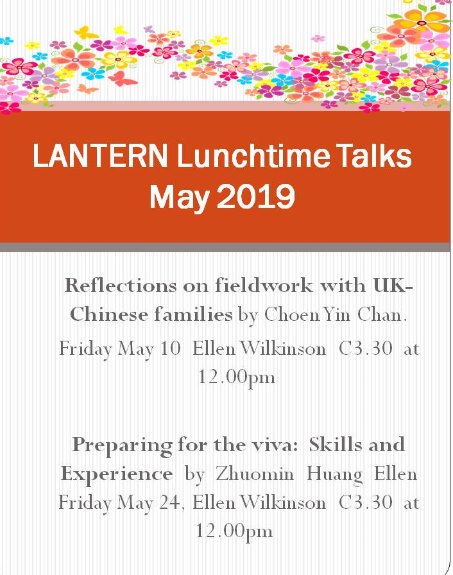 Lunchtime Talks 20  08/03/19
Guest speaker Oliver Delgaram-Nejad from Manchester Metropolitan University
Linguistic Creativity in Schizophrenia
Lunchtime Talks 18-19 (February 2019)
08/02/19
Critical intentional action, TESOL and Applied Linguistics by Dr. Juup Stelma and Dr. Richard Fay 
22/02/19
Doing Narrative analysis by Dr. Nooshin Jahangiri
Lunchtime Talks 16- 17 (December 2018)
07/12/18  Using Labov's Framework to Analyse Narratives by Olga Dolganova
14/12/18  Multimodal consumption as means to promote significant learning experiences by Nestor Singer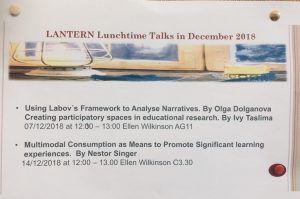 Lunchtime Talk 15  23/11/2018 
 Analyzing narrative data by Nahielly Palacios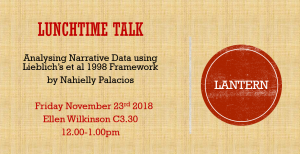 SOCIAL GATHERING FOR MEMBERS AND NON MEMBERS  9/11/2018. 
Lunchtime Talk 14   11/05/2018
Jobs after PhD how I found one by Dr. Volha Arkhipenka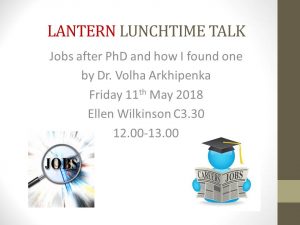 Lunchtime Talk 13 04/05/2018
A sociocultural analysis of WhatsApp teacher communities in the global south by Gary Motteram (Click here to watch the video)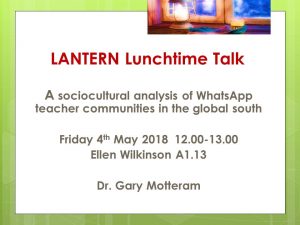 Lunchtime Talk 12  23/03/18 
Using a psychological framework to analyse a teaching story by Lada Smirnova (Click here for video)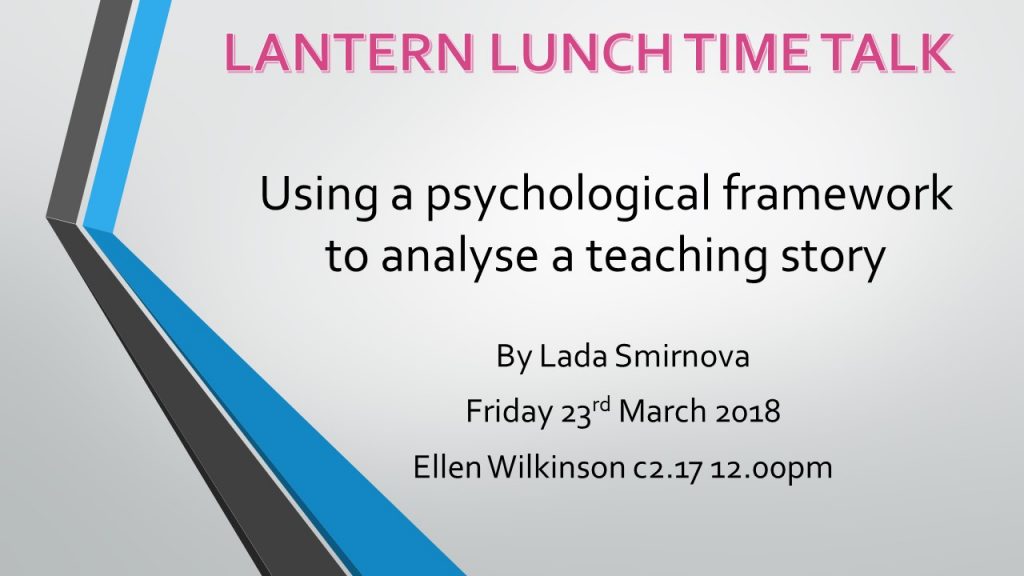 Lunchtime Talk 11  09/03/18
Post-PhD reflections: from the writing-up stage to a new research project on digital humanities by Dr. Duygu Candarli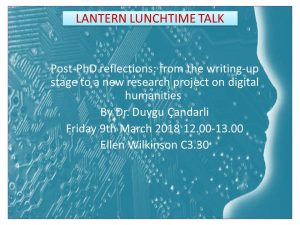 Lunchtime Talk 10 19/01/18 
Life after the PhD: from Ellen Wilkinson to the refugee classrooms of Cairo by Dr. Susan Dawson  (watch video here http://goo.gl/FFZiZo )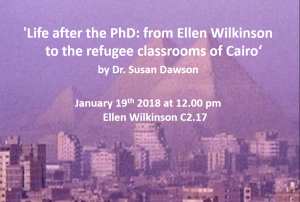 Lunchtime Talk 9 10/11/17 
-The light at the end of the tunnel: My thesis submission and viva experience by Siti M.
-Do you believe in life after PhD? by Khwan T. Click here Post_ph_D_Khwan.pptx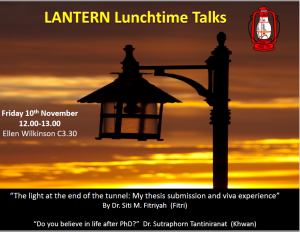 Lunchtime Talk 8  31/03/17
Inquiring into 'the intercultural' of pedagogies in Higher Education by
Ana Mocanu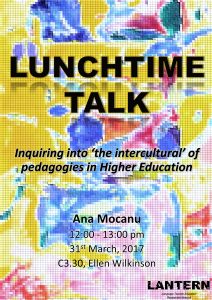 Lunchtime Talk 7 – 28/10/16  
Abduction in the academy: some ways in which students talk about their academic writing By Dr. Paul Smith
2015-2016

Lunchtime Talk 6 – 13/5/16
Narrative researcher praxis: Three reflections on developing doctoral practice
Volha Arkhipenka, Siti Masrifatul ('Fitri') Fitriyah and Rafidah Sahar

Lunchtime Talk 5 – 29/4/16
Exploring participants' changing perspectives through the life of an inter-school, collaborative, research and development project.
Andy Howes, Sue Goldrick, Siti Fitriyah, Nahielly Palacios, Volha Arkhipenka, Susan Dawson

Lunchtime Talk 4 – 4/3/16
"They thought they heard somebody who had risen from their grave": stories of multilingual, collaborative narrative research into Ladino and intercultural identity 
Leah Davcheva and Richard Fay

Lunchtime Talk 3 – 26/2/16
Using visual-creative-arts to explore intercultural personhood and maths identities
Zhuomin Huang and Kelly Pickard-Smith

Lunchtime Talk 2 – 11/12/15
Ecologies of Emerging English Language Curricula: Learning from three different contexts
Elisa Pérez-Gracia, Siti Fitriyah and Sutraphorn Tantiniranat

Lunchtime Talk 1 – 20/11/15
Academic identity and religious identity: cognitive dissonance in students' higher education
Paul Smith and Alex Baratta + Q&A